TM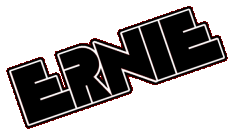 TM
Funky
Fuzz
Skreddy Pedals™ Ernie: Thick and huge-sounding, this 1973-era-based fuzz is fat on chords and riffs and soars with infinite sustain on single-note runs.
Has a wide useable tonal range with a rich midrange bloom.
Sounds like a vintage fuzz feeding a cranked up vintage amp, with as much output volume as you could ever want.
News • About Us • Cephalopod • Hybrid Fuzz Driver • Little Miss Sunshine • Lunar Module • P19 • Swirl • BC109 • Echo • BC239 • Mayonaise MkIII • Old Favorites • Dealers • Tee Shirts

Thick and fuzzy but articulate, with an old school feel

Modeled sonically on the beloved 'lamb's head' edition of vintage fuzz boxes (only supercharged and extra fat + "vintagey" sounding), the Ernie is a 4-silicon-transistor distortion/fuzz/sustain stompbox. The Ernie's gritty, girthy tone is optimized using a variety of the finest available new components and sweet-sounding new-old-stock parts. Modern features include small size, DC adapter jack, LED on/off indicator, and true bypass switching.

Phattest fuzz of its size!